Natural-looking Dental Crowns and Bridges Restore Your Smile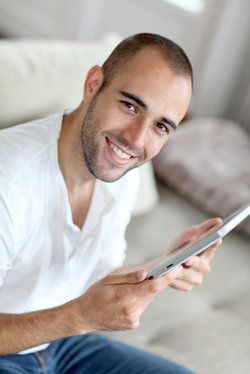 Dental crowns and bridges placed by Dr. Joe Jeppson in Provo can restore the appearance, balance, and functionality of your smile. These tooth-shaped prosthetics are custom-crafted to restore damaged or missing teeth. We work with an outstanding dental lab to create your custom restorations. Same-day crowns are also available using sophisticated in-house technology. Contact us today to schedule a consultation with Dr. Jeppson.
Dental Crowns
Dental crowns are custom tooth-shaped prosthetics that are designed to cover a tooth that has been treated for advanced decay or trauma. In most cases, a crown is used to restore a tooth that has undergone a root canal. If you have lost a single tooth, a crown can be placed in conjunction with a dental implant (a small titanium post that is surgically implanted in the jaw) to replace the tooth. In some instances, a crown may be placed on a healthy tooth to provide support for a bridge.
Same-Day Crowns
In some cases, we can provide same-day crowns. Dr. Jeppson uses CEREC® (Chairside Economical Restoration of Esthetic Ceramics), a computer-aided drafting and manufacturing device that can mill a custom crown from a single block of porcelain that is specially selected to match the color of your teeth. Same-day crowns require no impressions, no temporary restorations, and only about an hour of waiting time. They are made of ultra-durable porcelain that is four times as strong as porcelain fused to metal.
During this process, Dr. Jeppson will create digital images of your teeth. This information will guide the CEREC® system as diamond-tipped tools create a crown with the precise contours necessary to achieve a comfortable fit and natural appearance. While your crown is being created, you are welcome to relax in our comfortable massage chair. The crown can be placed immediately after it is created, and you can leave our office with a beautifully restored smile.
Placing Traditional Dental Crowns
After a tooth has been treated, Dr. Jeppson will take an impression using dental putty. He will send the impression to our top-quality dental laboratory along with other instructions to guide the technician in creating a crown that looks natural among your existing teeth. At Jeppson Dental, we only use exceptionally durable porcelain for our crowns, which have a more natural appearance than metal restorations. It typically takes about two weeks to create a crown, and we can provide a temporary crown during that time. When your permanent crown is complete, you will return to our office to have it placed.
Dental Bridges
Dental bridges, also called partial dentures, fill the spaces left by one or more missing teeth. Bridges can be supported by adjacent dental crowns or dental implants. As with traditional dental crowns, dental bridges are created in an offsite laboratory, and we can provide you with a temporary restoration in the meantime.
Learn More about the Benefits of Custom Dental Crowns and Bridges
If you are suffering with teeth affected by decay or trauma, or if you are missing teeth, our custom restorations can be used to rebuild your smile. To learn more, contact us today.